Picture this: a leasing office with a makeshift "make ready board" on the wall. You know the one we're talking about – an old-fashioned whiteboard covered in hurried scribbles, as someone frantically tries to decipher which unit should be next in line for renovation. Or, maybe you've graduated from the whiteboard and moved on to an Excel spreadsheet. Either way, it's a scene all too familiar in the industry, and the chaos that ensues can be costly.
Efficiently executing the make-ready process is no easy feat. However, it's a crucial aspect of property operations. Every day a unit remains unturned is a day of potential rental income lost. Poor documentation during the move-out process can lead to financial losses for the property. Capturing resident charges and damage fees, and communicating with residents promptly, is paramount.
In the past, property managers relied on archaic tools like whiteboards or clipboards to oversee the make-ready process. The process was painstakingly manual, with teams scrutinizing every room, marking down issues, and tussling with residents over damages, all without proper documentation.
Enter the digital Make Ready Board from Leonardo247, a revolutionary make ready software solution designed to transform this cumbersome process into a seamless and efficient operation. Say goodbye to the era of whiteboards and clipboards; it's time to embrace a modern, integrated, and user-friendly approach to property management.
What is the Make Ready Board?
The Make Ready Board is an interactive feature available on both the web-based and mobile versions of Leonardo247. It offers property managers and maintenance teams a dynamic view of their unit turn process.
Key Features
Task Management: Users can easily track and manage tasks required to make a unit ready for rental.
Visual Representation: Provides a visual representation of the work to be done unit by unit, complete with customizable task statuses.
Integration: Seamless integration with the property management system (PMS) ensures that unit turn workflows are initiated automatically.
Change Due Dates: In the latest update to the Leonardo247 Make Ready Board, users with appropriate permissions can adjust task timelines based on various delays. This may include vendor delays, property delays, and even weather delays.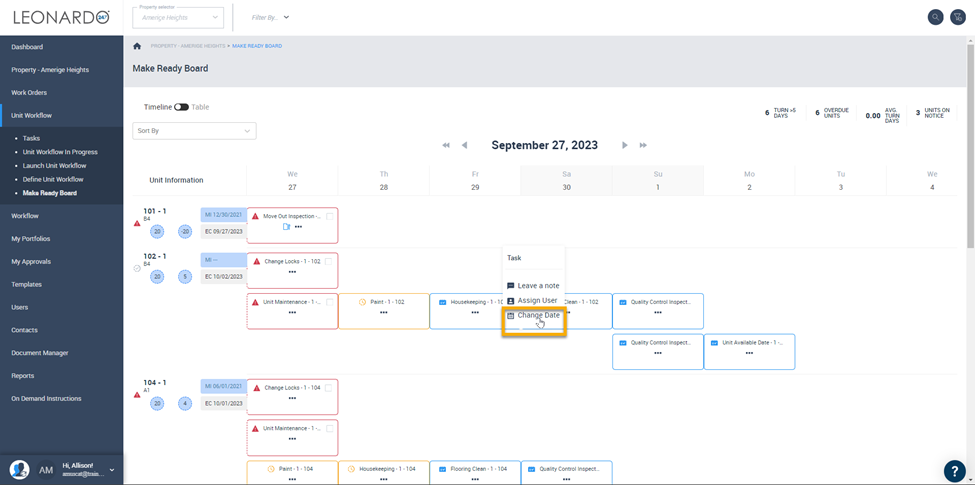 Benefits of the Make Ready Board
Enhanced Visibility: Say goodbye to time-consuming phone calls, or trips back and forth to the office for updates. With Leonardo247's make ready software, your entire team gains quick visibility across properties and units undergoing the turn process.
Efficiency: By visualizing the unit turn process and adjusting timelines as needed, you're able to complete tasks faster.
Mobile Accessibility: Access from anywhere using the mobile app, allowing you to streamline your top-priority tasks on the go.
Real-Time Alerting: The Make Ready Board also offers real-time alerting by cross-referencing the anticipated move-in date with the make-ready date. This feature ensures you're always aware of potential delays and takes proactive measures to keep your unit turn process on track.
Ready to remake your Make Ready process? Request a demo today to see the Leonardo247's make ready software in action!