OVERVIEW
Foulger-Pratt embarked on a journey to streamline its operations and enhance its property management practices. Recognizing the challenges posed by scattered tasks, manual processes, and paper-intensive workflows, Foulger-Pratt sought a solution that could bring transparency, organization, and efficiency to its everyday tasks.
"We had too many tasks and things we needed to remember about each property buried in people's email inboxes, or in paper forms, or in a checklist. Frankly, in people's heads," said Alison Punsalan, Senior Vice President of Property Management for Foulger-Pratt.
After speaking with another operator who uses Leonardo247, a light bulb went off, and Foulger-Pratt selected Leonardo247 as the solution in 2022.
APPROACH
Led by Caroline Gray, Systems Manager & Trainer, and with the support of Alison, Foulger-Pratt approached the implementation of Leonardo247 with a clear vision.
The following key steps were taken during the approach:
Alignment with Business Needs: Understanding the importance of proper implementation, Foulger-Pratt initially slowed down the implementation process to ensure accuracy and effectiveness.
Training and Learning: With a commitment to continuous improvement, Foulger-Pratt invested in training and updates to maximize the potential of Leonardo247.
Utilization of Features: Foulger-Pratt harnessed the platform's features, specifically, onsite audit workflows, and incident reporting workflows, tailoring them to meet their specific needs.
"We're really appreciative of the flexibility within Leonardo247. Every time we look at one of our internal workflows, we ask ourselves if this can be in Leonardo247. We've realized there are more things we can put into Leonardo247 that are customized to our business," said Alison.
RESULTS
The adoption of Leonardo247 yielded impressive results, driving significant improvements across Foulger-Pratt's portfolio:
Efficient Audits: Previously a complicated process, audits became streamlined, thanks to Leonardo247's clear task tracking and completion status indicators.
Risk Mitigation: The platform's incident reporting workflow, collaboratively built with Foulger-Pratt's risk team, empowered employees to report incidents seamlessly, enabling faster response and mitigation.
Employee Turnover: With property-specific information stored in Leonardo247, Foulger-Pratt successfully managed transitions even in the face of personnel changes.
Paperless Transformation: The platform's versatility allowed Foulger-Pratt to eliminate paper forms and checklists, transitioning towards a more eco-friendly and efficient digital workflow. For instance, they have completed 3,818 Annual Apartment Preventative Maintenance Checklists since October 2022.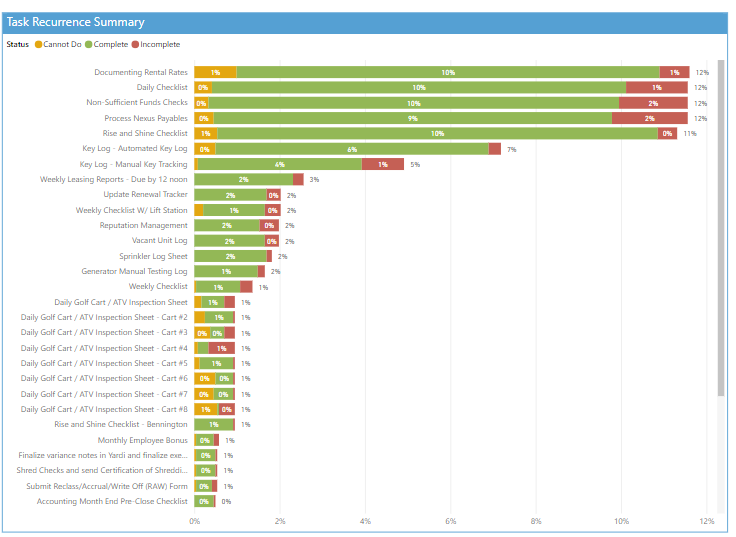 "We've been trying to move towards paperless. We had a maintenance checklist and a leasing checklist, and now our team is able to do them in Leonardo247 on an iPad, a laptop, or a mobile device, whatever is most convenient. That made it a lot easier," said Caroline.
CONCLUSION
In the span of just over a year, Foulger-Pratt's partnership with Leonardo247 resulted in a transformative shift in its property operations and maintenance. By leveraging the platform's capabilities, Foulger-Pratt achieved improved task management, risk identification and mitigation, and a smoother transition during personnel changes. The organization's shift towards paperless processes exemplified its commitment to embracing modern technology.
In reflecting on the journey, Foulger-Pratt encourages others to recognize the value of Leonardo247 in addressing contemporary property management challenges.
"I never realized how cumbersome and paper-intensive our processes were. We never had insight into the property operations before Leonardo247," said Alison. "When we finally set it up, I remember thinking, 'Why did we wait so long to do this?'"
The case of Foulger-Pratt underscores the importance of investing time in proper implementation, embracing new technologies, and seeking out comprehensive solutions that align with the ever-evolving needs of today's property management landscape.