Newly completed audit confirms software as a service developer meets rigorous security and trust standards
Plano, Texas – Award-winning property operations and maintenance software developer Leonardo247 today announced it has successfully completed the Systems and Organization Controls (SOC) 2 Type 1 Compliance Audit. The report verifies the company has the proper controls in place to ensure information security, availability, and confidentiality in accordance with criteria developed by the American Institute of CPAs (AICPA). The audit was completed by Larson & Company, certified public accountants.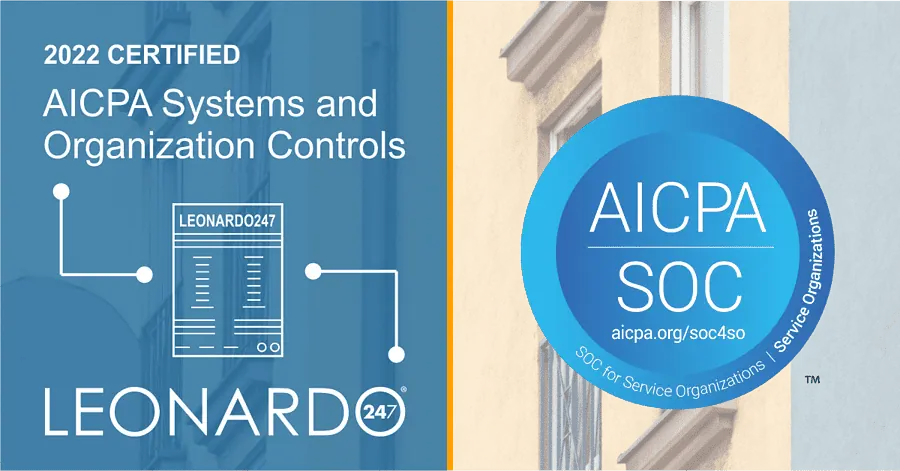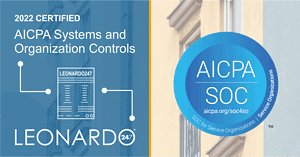 "We are pleased our SOC 2 audit confirms our organization has the appropriate controls in place to meet these rigorous standards," said Ryan Bovermann, CTO of Leonardo247. "While implementing best practices in data handling and management has always been a priority for us, it is very gratifying to have them validated by independent audit," he added.
SOC 2 compliance refers to both the security framework and the audit that confirms whether an organization is compliant with its requirements for managing customer data based on five Trust Services Criteria (TSC): Security, Availability, Processing Integrity, Confidentiality and Privacy. For each TSC a company must have numerous controls in place to ensure both compliance and proper remediation.
During a SOC 2 audit, an independent auditor evaluates and determines whether the company's systems and processes comply with SOC 2 requirements and issues a report detailing the outcome. The report serves as a valuable tool for customers of software-as-a-service organizations like Leo247 to evaluate the risks and provide evidence that customer data is managed in accordance with SOC 2's stringent standards.
Leonardo247 offers a cloud-based platform that streamlines the operational and maintenance of aspects of multifamily properties and physical assets. Powered by patented AI, the Leo247 web and mobile apps simplify complex tasks and help onsite staff through their workdays by providing context-aware workflows for maintenance, inspections, risk assessments, and similar routines, while also providing managers and executives with real time dashboards and oversight. The platform won the 2021 Multi-Housing News Excellence Award in the Best Technology Innovation category.
Leo247's SOC 2 Type 1 Compliance report is available upon request from the company.
About Leonardo247
Leonardo247 is the award-winning developer of the Leonardo247 smart property operations and maintenance platform. Cloud-based and mobile-first, Leo streamlines operations for multifamily real estate owners and operators by delivering daily tasks, workflows, inspections, and procedures to onsite operations teams on the go. The platform integrates with the industry's leading property management and enterprise systems providing management with real-time visibility into physical operations, risk mitigation, and asset performance across the entire organization. With over 2 million units under care, the nation's largest multifamily property owners and managers depend on Leo247 to keep their communities happy, healthy, and in top condition. In 2021 Leo247 was #551 on the Inc 5000 list of fastest growing privately held companies and ranked #11 in the 50 Best Places to Work in Multifamily for 2022. For more information, call (877) 995-3662 or visit www.leonardo247.com.
###
Media Contact
Sage Osterfeld
sosterfeld@leonardo247.com
(760) 593-7243